---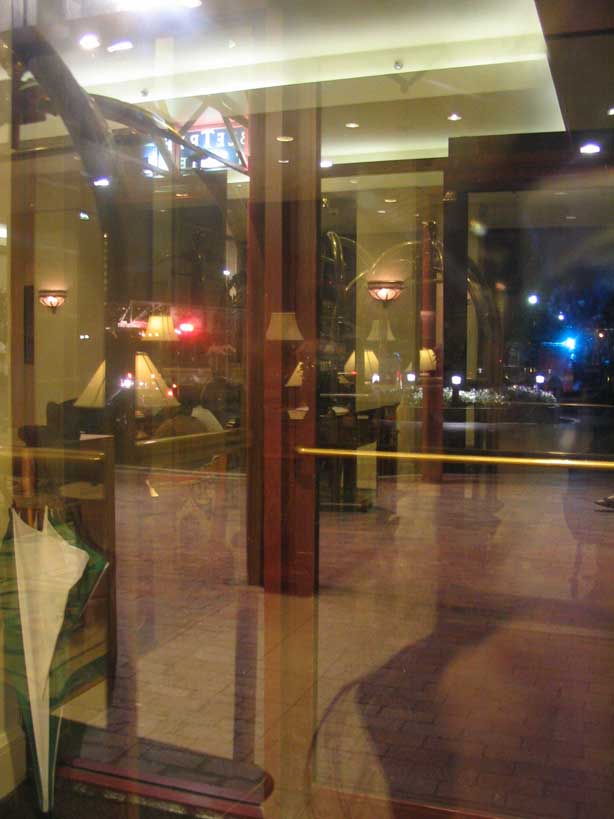 What's the most important thing you need in an emergency - what is it that you must have every second, every moment?
The answer isn't food, or even water, or even air. The answer is God.
In a crisis, what you most need to survive is God. The best practice is to connect to God during non-emergency times. As you read over the below, please pray and see to which items God directs your attention.
The image to the left is of emergency vehicles outside the WAVES' 2006 Boston hotel, late at night. Utter normality is reflected in the glass; outside, though, the emergency lights flash. Don't be asleep - be watching.

---
Information by WAVES, for WAVES
General Information
Know Where to Go/Whom to Contact
If you have loved ones around the country or continent, you might want to arrange beforehand for where to meet or how to get in contact. Know what websites to check, what email accounts to access, what phone numbers to call!
In Case of Earthquake, Where Do You Hide? (And More)
Did you know that earthquakes have, in the past, hit most parts of the USA? This means most of the country, not just California. Be prepared. Know where to go, and secure your tall, heavy furniture! Plus, when to shut off the gas, etc.
Places to Buy Supplies From
From Meals-Ready-to-Eat (MREs), to water purification tablets that kill dangerous water germs, to dehydrated food, to emergency lights, emergency radios, spare backpacks, 55 gallon water containers, waterproof matches, and emergency medical kits, these sites have them all. Remember clean water is what you need more than food, and remember also the need to stay warm and dry if you're caught away from home. Don't forget your emergency medical kits, too - or your inspirational reading!
Emergency Essentials is at beprepared.com. (Betty has bought from here, and so have I.) They have some nice kits; they have radios, flashlights, MRE food, water storage drums, water purifiers, first aid, emergency blankets, etc.
The Red Cross Store has a number of preparedness items, including DVDs on pet preparedness.
http://www.emprep.com/ - never ordered from them; this is a Google hit.
http://www.homelandpreparedness.com/ - never ordered from them; this is a Google hit.
http://theepicenter.com/ - never ordered from them; this is a Google hit.
Basically, search on Google for "emergency preparedness" and "supplies"!
---
Let us have compassion for all those who suffer from disasters or horrific events. To quote Jesus from Luke:

"Do you think that because these Galileans suffered in this way they were worse sinners than all other Galileans? Or those eighteen who were killed when the tower of Siloam fell on them - do you think that they were worse offenders than all the others living in Jerusalem?"

Let's just strive to be prepared so that we can be a blessing to those around us, if such stressful events do happen to occur!

"Tamago" WAVE
---